Ramos, Ronaldo, Zidane break world records as Real Madrid win 11th UCL
Sergio Ramos, Cristiano Ronaldo and Zinedine Zidane have inked their names in the history books again, as Real Madrid win its 11th UEFA Champions league.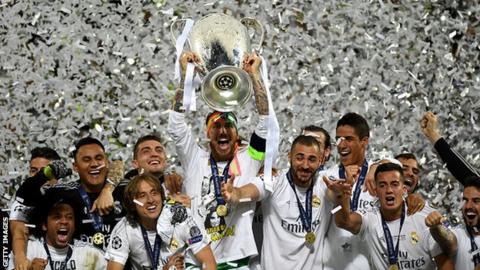 Ramos became the first defender in history to score in two UEFA champions league finals, while Ronaldo edged-out his archrival, Lionel Messi, to become a player with three goals from three different UCL finals.
According to UEFA, "Ronaldo has also broken clear of Lionel Messi in the all-time UEFA Champions League goalscoring stakes, with 93 to his name compared with the Barcelona man's 83 – both players having begun the campaign on 77 goals. Ronaldo leads Messi 94–83 in the European Cup overall, including qualifying, for the competition's 61 seasons".
Zidane joined two enviable companies, as he became the seventh man in history, to have won the UCL as a player and as a coach. He also became the eight man ever, to have won the UCL in his first coaching season at a club.
Real Madrid defeated Atletico Madrid 5-3 on penalty kicks after extra time to win its record eleventh UCL.
The game had ended in a one all scoreline and Ronaldo scored the winning kick after Juanfran missed for Atletico.
Real Madrid drew first blood in the fifteenth minutes as a foul saw them awarded a free-kick just inside the Atletico half.
Gareth Bale, always dangerous in the air flicks it on and Sergio Ramos just got enough on it to put it between Oblak's legs.
The set-piece looked planned and came off perfectly. Real led 1-0.
Real Madrid were so close to killing off the game and scoring in the 79th minutes but it was Atletico who equalised!
Ronaldo and Bale were denied at close range but Atletico substitute Carrasco went up the other end and turned in an excellent volleyed cross from Juanfran for the equaliser.
It was a masterpiece decision by Simeone as the Belgian substitute threw the game open with Atletico looking more determined and dangerous.
Ronaldo however missed what could have finished off the game in the 83rd minute as Real Madrid continued to look vulnerable till the final whistle for regulation time.
Ronaldo had the first opportunity of extra time in the 95th minute from a lovely delivery by Luca Modric but his effort was deflected into the arms of Atletico Goalkeeper Oblak.
Real Madrid had a golden opportunity in the 120th minutes to finnish off the game but missed it.
Follow us on twitter @peeklook